parts:
P1P, Adenosine, Lecithin, Totalol, pure water, natural tocopherol seed oil, herbal extract, royal jelly extract, soybean yeast ...
Function: Lock Serum, regenerate new cells, regenerate natural collagen
User manual: Apply directly to face and neck skin, apply after using serum 1 to 2 times
Preservation: At room temperature, avoid direct sunlight.
Effective: After 3 weeks of use.
Expiry date: See on the product.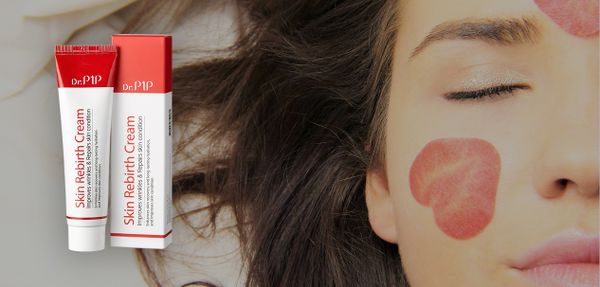 Perfectly regenerates skin and natural collagen
Dr.P1P Skin Rebirth Cream cream perfectly regenerates stem cells and regenerates natural Collagen. Dr.P1P Skin Rebirth Cream works to moisturize dry and sensitive skin after beauty treatments at Spa and at home, thus shortening the recovery time of cell barriers, promoting regeneration and saving pine, and enhance cell self-sustaining ability.
Contains P1P` (Phytosphingosine-1-Phosphate) - Improves skin aging, bio-stem cell growth and increases fresh collagen
Dr.P1P Skin Rebirth Cream contains P1P, a substance similar to wound healing substances secreted from platelets, helps synthesize collagen in skin tissue, promotes stem cell production and maintains healthy skin, Help improve skin elasticity.
Contains Adenosine - a gold substance in the cosmetic industry, helps reduce wrinkles, sagging, darkening
Adenosine is a gold substance in the cosmetic industry, limiting the formation of wrinkles caused by the destruction of collagen fibers, and it contains essential nutrients to promote skin elasticity.
Powerful moisturizing effect
Contains white mushroom extract with excellent moisturizing ability for skinIn cream Dr.P1P Skin Rebirth Cream contains Lecithin, this substance enhances the skin's ability to moisturize by balancing moisture, enhancing the ability to moisturize and help skin become younger and more beautiful.
Contains natural Tocopherol ingredients
Dr.P1P Skin Rebirth Cream is rich in natural tocopherols and unsaturated fatty acids, helps prevent oxidation of the skin, helps skin smooth